Sensory play is a spectacular tool to not only engage your child's senses but allow them to learn along the way! This is exceptionally important for toddler and preschool-age children because it supports cognitive brain development. Moreover, this approach to education also enhances memory, improves fine motor skills, and promotes problem solving and exploration. Thus, we have compiled a list of the top six creative preschool arts and crafts to help your child flourish and have fun at the same time!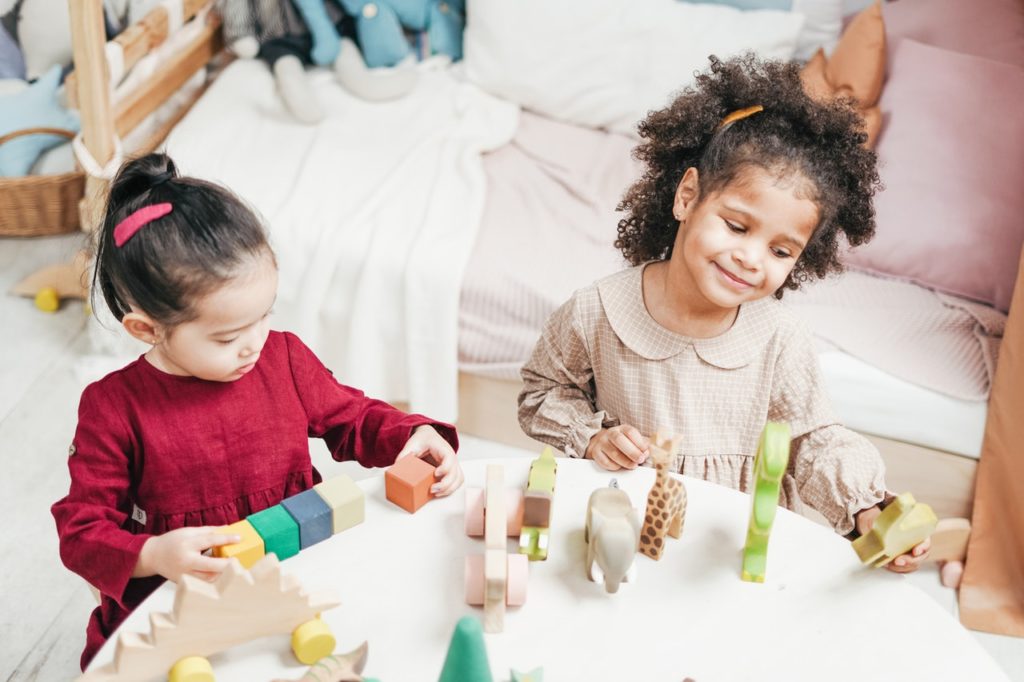 1. Fireworks In A Jar
Take the WOW factor of fireworks and put it in a jar for your little one to enjoy! This experiment is simple and completely customizable!
What You Will Need:
Clear Plastic Jar With Lid
Water
Vegetable Oil
Food Coloring
Two Craft Sticks
Two 2 Ounce Plastic Mini Cups
First, take your clear plastic jar and fill three-fourths of the container with water. Next, fill the remaining quarter of the jar with vegetable oil. Then, pour a small amount of vegetable oil into each mini cup.
Let your preschooler select their preferred colors of food coloring.
Then have them mix five to six drops of each color into the individual cups (for example, one red cup and one blue cup). Using the craft sticks, have them thoroughly mix up the colors. All that is left is to pour their colors into the jar and wait for the show to start with their fireworks in a jar!
2. Create Your Own Rain Cloud
This project allows kids to better understand the science behind rain falling from the sky! In order for rain to descend from a cloud, there must be enough moisture present. This crafty experiment lets them learn about this topic while also having fun!
What You Will Need:
Clear Plastic Jar With Lid
Water
Shaving Cream
Food Coloring
Take the plastic jar and fill it two-thirds of the way up with water. This will be their atmosphere. Next, let the kids squirt enough shaving cream on top to fill the remainder of the jar. This will represent the cloud!
Finally, let your child add in the food coloring. Slowly drip it over the various sides of the shaving cream cloud. This represents the available moisture. The more they add to the cloud, the more filled it becomes, eventually leading to rain!
Just like in our water cycle, the cloud accumulates tiny water droplets that are in the atmosphere. Over time, this gets to be too much for the cloud to hold, leading to precipitation.
3. DIY Rainstick
For the parents who don't mind a little music in their lives, this is a craft that can bring long-term eclectic sounds to your home!
What You Will Need:
Paper Towel Roll
Wax Paper
Duct Tape
Brads
Beans
Rice
Jingle Bells
Beads
Markers
Cut out two squares of wax paper — this should be enough to cover the ends of each side of the paper towel tube with at least an inch of extra space on either side. Place one of the squares over the end of the paper towel tube and adhere the edges along the side of the roll using duct tape.
Next, have your kids stick brads into the sides of the paper towel roll. These will allow for a better acoustic experience. Then, have them add whatever noisemakers of their choosing! This can include rice, beans, noodles, jingle bells, or beads. Anything that comes to their imagination can be used!
Once it is filled up halfway, cover up the open end with the other piece of wax paper and tape. Lastly, have the kids decorate their music maker to whatever design they feel like doing!
4. Painted Garden Stones
Preschoolers love to paint! This arts and craft project lets their creative juices flow and it can help to spruce up your garden simultaneously.
IMPORTANT NOTE: This is a project that is best suited for those kids who do not put everything in their little mouths. It is also an activity that needs to be supervised.
What You Will Need:
Acrylic Paint (multiple colors)
Paint Brushes (large and small sizes)
Stones
Sharpie
Paper Plates (dessert size are recommended)
Garden stones are a fantastic way to brighten up any backyard and they spread a little joy to those who spot them!
We recommend applying a base coat of paint to the stone prior to this project, as it can take a while to dry, and as we all know, kids can be a bit impatient at times.
Once the base coat is dry, put paint on the paper plates and layout the brushes. For the kids who want a bit of an outline to work with, take your sharpie and draw the framework for their desired piece. Then, let your little Picassos fill in the sections with their paint color selections.
Related: Outdoor Activities For Preschoolers
5. Homemade Kazoos
Vibrations ignite the sense of touch, but also that of hearing! If you have a little Stevie Wonder on your hands, this project is bound to excite them!
What You Will Need:
Two Popsicle Sticks Or Two Tongue Depressors
Once Straw
Three Rubber Bands
Scissors
First, place a rubber band over one of your tongue depressors in a longways direction.
Then, cut the straw into one-inch pieces — you will need two for each kazoo. Next, place a straw piece on top of either side of the rubber band and tongue depressor combo in a perpendicular direction.
Layer the other tongue depressor on top of these items, essentially sandwiching the straw pieces in the center section.
Finally, take the two rubber bands and secure the two sides directly over the straw sections. Once this is complete, your little ones can start harmonizing away with their harmonica-like instruments!
6. Custom Christmas Ornaments
A creative preschool arts and crafts activity your child can do pertaining to the Holidays would be custom Christmas ornaments.
It is the most wonderful time of the year and your children can make it even more special by creating an art piece that will be displayed for everyone! This can also be made extra special with their old birth announcements or a sentimental photo.
What You Will Need:
Clear Christmas Ornament Ball
Your Document Of Choice
Pencil
Scissors
Ruler
First, take your ruler and pencil and draw half-inch lines all along the back of your paper. Then, cut out the strips. Depending on the dexterity and skill set of the kids involved, this may need to be done before you start the project.
Next, have them wrap each piece of paper around the pencil with the pretty side facing outward.
Have them hold each piece for approximately 30 seconds. Slide off the curled piece and repeat until they run out of paper.
Finally, drop each section into the ornament, arranging them with the use of the pencil. When they are done, they will have a custom and heartfelt ornament that can be displayed for years to come!
Final Thoughts – Creative Preschool Arts And Crafts
There are many creative preschool arts and crafts out there that can engage the child in a world of un. It is important to remember that creativity and crafts are not going to be clean! Welcome the disarray and let your preschooler enjoy the mess.
For those parents who are looking for easy clean-up, dress your kids in clothes that you don't mind getting dirty and have wet wipes nearby.
Moreover, consider purchasing butcher paper to lay out on their arts and crafts surface AND under the table! This can minimize the time it takes to get the room back to normal!