Congratulations! Your little angel has arrived, and you cannot wait to discover the new horizon of parenthood with your angel. While the first couple of days will be about adapting to being a mother, the later chapter gets into keeping your baby engaged.
Babies grow fast; sooner or later, he or she will get occupied. He or she will also develop newer reflexes as well as more mobility. This calls for planning engaging art activities so that your little ones get to make the best of their growing time. Here are some of the best art activities for infants 0-12 months, which will allow your little one to interact with art in many diverse ways.
Some art activities are somewhat messy, stimulating, fun, and engaging each one of their senses, while some are mess-free for those instances when you want it clean and easy. Each art activity mentioned below enables your little ones to explore, experiment, and create in their own exceptional way.
Art Activities for Infants 0-12 Months
Zip Lock Painting
This is a mess-free art activity ideal for babies 0-12 months old. This is a very remarkable art activity that stimulates the sense of sight and touch of your little ones. They will also have pleasure watching all the remarkable colors change as they mix and merge together.
Cling Film Art
If you are searching for an engaging but mess-free art activity to introduce to your little angel, then Cling Film Art is the best choice. This is another great mess-free art activity that makes your baby really experience the natural paint's movement. You will most likely hear some pretty and attractive squelchy noises.
Splat Painting
This doesn't need much introduction. Be prepared for lots of messes and let your little ones being excited and having fun. You can do this art activity in the bathtub to make it easier for you to clean up the mess.
Here is a simple video walking you through what that is.
Paper Plate Art
Simply give your children some supplies to color with such as:
Crayons
Coloring Pencils
Brushes
Then let your child create their own piece of art that you can later hang in the living room.
This is considered a super floor-based art activity ideal for babies aging 0-12 months. This activity encourages the little ones to move around to develop both gross motor and fine skills.
Bubble Wrap Activity
Painting is fun on its own but have you ever tried painting on bubble wrap? The texture and layout of the bubble wrap canvas makes painting much more fun and will keep your baby engaged for a longer period of time.
This can be performed as a finger painting activity or with special tools such as rollers and paintbrushes. Your little ones will enjoy exploring paint as well as texture together.
Swatter Painting Activity
Simply set out pools of paint on a piece of cardboard on the floor. Allow your baby to grab the fly swatter and dip it in the paint and draw on a white canvas.
This is an exciting, fun art activity for babies 0-12 months utilizing, you guessed it, a swatter. Your little ones will enjoy the splatters, splashes as well as sounds of this art experience.
Sponge Painting
If you are searching for an art activity that is a fun alternative to painting using brushes, sponge painting is the best choice. Your little ones can take pleasure in both sides of the sponge and smear and rub it to combine colors and make different textures.
You can put in some watered-down paint, and your little ones can squeeze and see the paint splatter and drip. 
Light Table Painting
Wrap plastic wrap around a table and give your children child-proof paint to create their art. Once they are done, you can remove the wrap and throw it away.
This is a mess-free art activity for 0-12 month's babies that will enable them to explore the mixing of color. This is a good way of introducing your little ones to colors.
Sensory Art Activities for Infants
Sensory art activities are activities that stimulate the senses of your little ones and, at the same time, encourage them to discover and explore things on their own. The sensory art activities that will be mentioned below will help develop fine muscle, motor skills, color perception, space, and depth.
Play Dough
There's something immensely pleasing and gratifying when molding playdough. Your baby will be excited and have a great feeling as their little fingers squish through the play dough. Allow your kids to form anything they want and bring out their creativity from within.
Building Blocks
If your baby has developed a fine eye for shapes, then it's the best time to introduce her or him to this kind of activity. Your kid's motor skills are defined now, and he or she will start to hold, lift as well as drop things. Join in the game initially until your kid is accustomed to developing shapes on her own.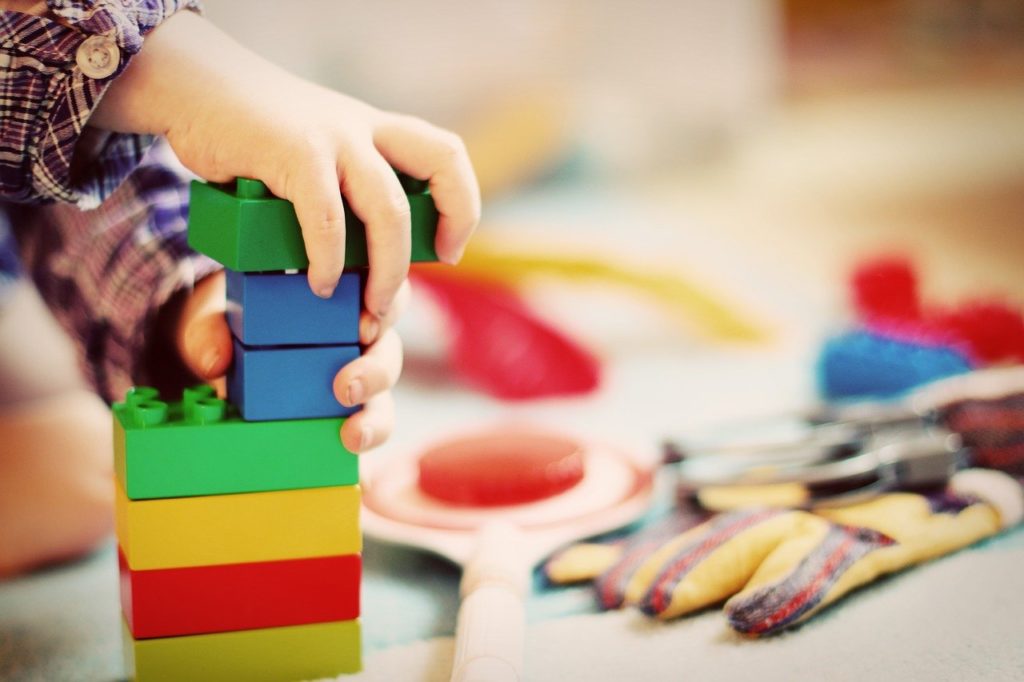 Playing Drums
This art activity will improve your baby's auditory sense of cause and effect skills. Take three bowls made of plastic and invert them. Next, utilize a pair of spoons made of wood and begin drumming with your little one. Ensure that this is performed under your supervision as babies are still young and might hurt themselves with spoons.
Baggy Finger-Painting
In this activity, you will need duct tape, a gallon-size zippered freezer bag, and washable finger paint. Squeeze some dark shades of washable finger paint into a baggy and seal firmly.
Put in duct tape for additional security. Spread the paint around to coat the bag's interior and then put it on the floor in front of your little one. Show her how to make marks on the outside of the bag using her finger or hand.
If you want to preserve the artwork of your precious little one, just cut the corners of the bag. You can now peel off the top of the artwork, then lay it flat to dry. Skills learned include fine motor skills, sensory development, early writing skills, and understanding cause and effect.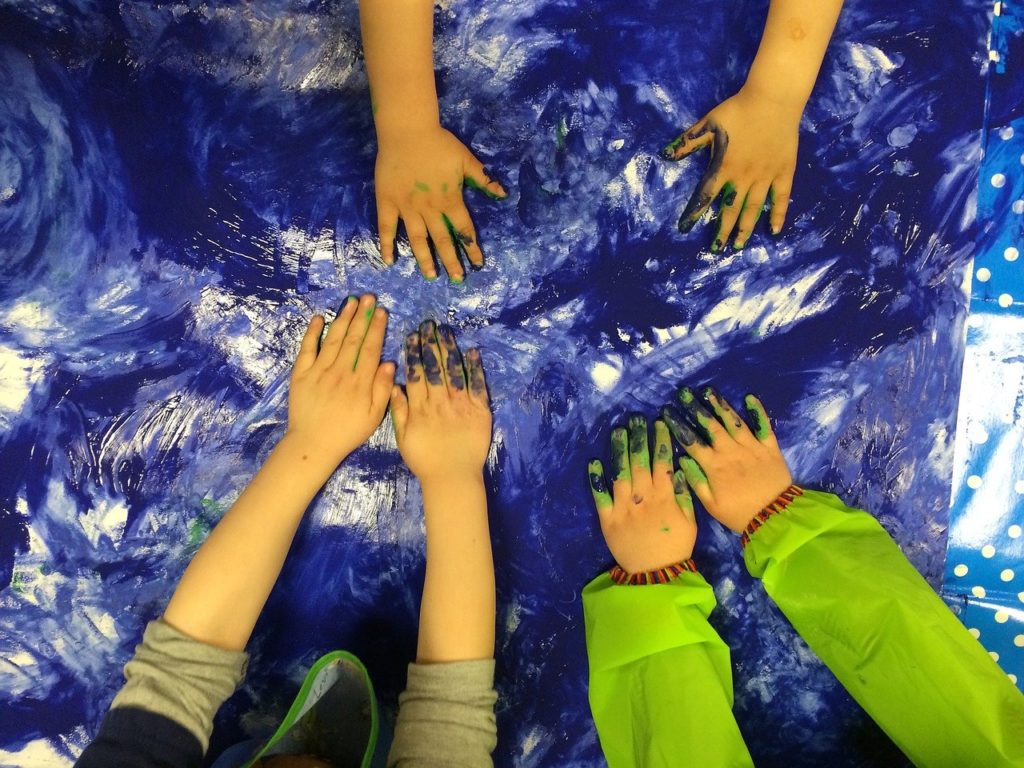 Free Drawing
This is regarded as a vital activity for babies due to the fact that it encourages imagination as well as visualization. Don't encourage copying as well as coloring in; instead, allow the visualization and imagination of the little ones to develop. Try to refrain from asking, "what's that." Babies will inform you if they wish to do. Don't rush your baby in the scribbling stage, it's part of the development, and it's best left to your baby's natural growth.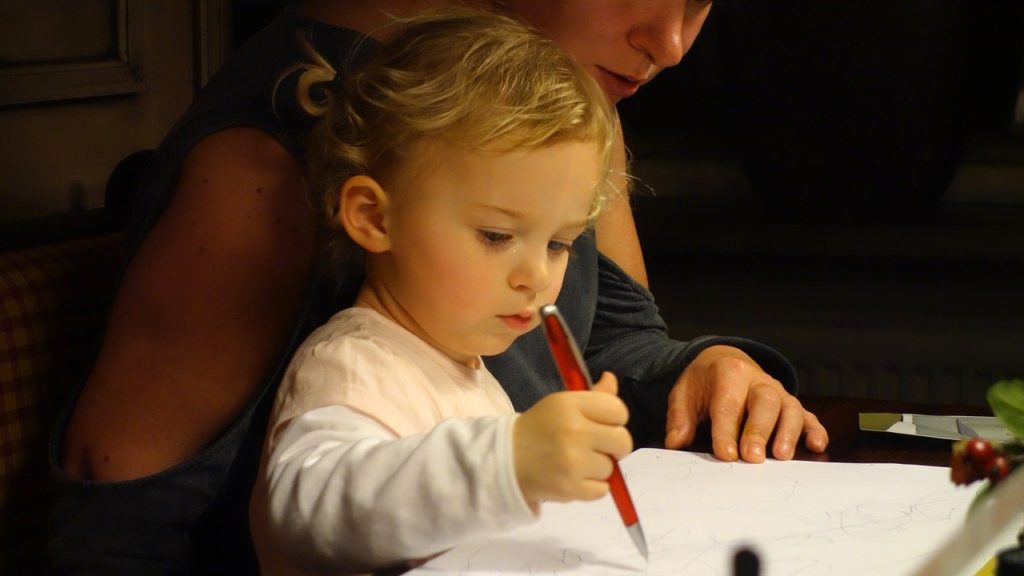 Paint with Water
If you want a mess-free art activity for your one-year-old kid, then this one is the best. This is easy to do; all you need is to get some sheets of construction paper, a bowl of water, and a big paintbrush.
Show your little one how to dip the paintbrush in the bowl of water and then paint the sheet. The paper will darken at the areas they brushed with water, which makes for clean patterns. You can try different colored papers or various sizes of the paintbrush as well.
Puzzle
Around the time where a child has their first birthday, they will be ready for a big wooden puzzle. Experts suggest ones that have colorful pictures and shapes. Show your kids how it works- you might need to guide his or her hand. This art activity will improve your little one's fine motor and visual skills as well as skills in problem-solving.
Once the child is successful in finishing the puzzle, make sure you show support by clapping and making them feel good.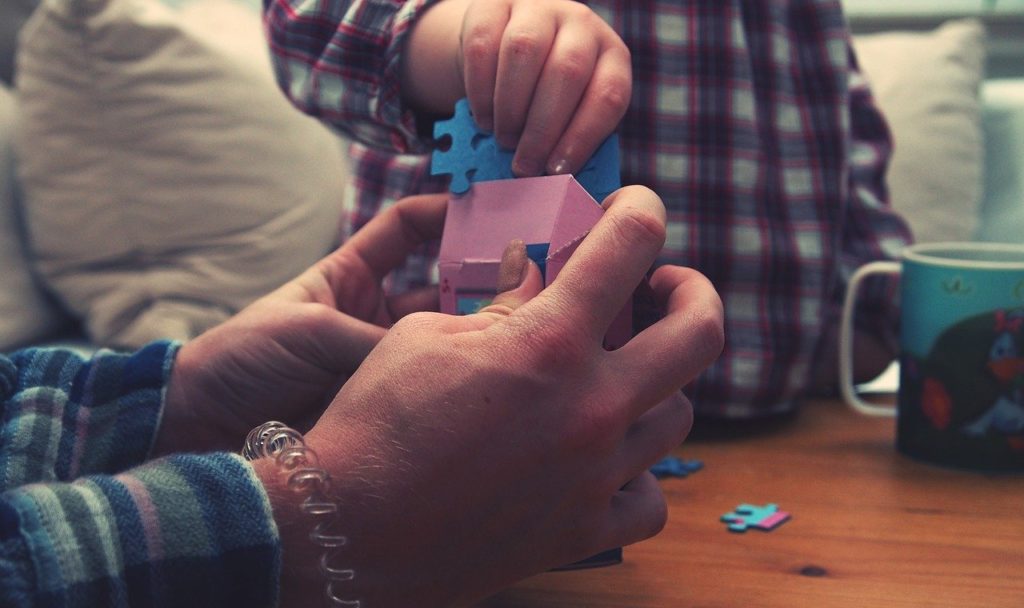 Benefits of Art Activities for Babies 0-12 Months
Art activities for infants 0-12 months old are good for a baby to develop skills and learn new things. Kids enjoy art in any form, whether it's drawing, sculpting, or painting. These art activities help babies build skills that will stay with them for life. It's essential that you encourage your little ones to join in these activities.
According to research, art can boost the mood, intelligence level, and confidence of the baby. Unfortunately, some parents don't offer these activities to their children so it is your job to set this up for your baby at home.
Arts will build confidence. This confidence will benefit your baby during daily social interactions later in life. A sense of self-worth and confidence will help your little angel succeed in obtaining their dreams, which is a perk that all parents want to give for their children.
Art activities for babies also improve brain activity, which is true on both sides of the brain. Art will help enhance the baby's creativity and enable them to have a good imagination and an artistic view of things. 
Concentration and focus are other perks, which art activities for babies can offer. Art enhances focus and makes babies show their feelings in the right way and will help them learn about concentrating on a task. Your little one doesn't need to be an art prodigy to take pleasure in art activities. Just being exposed to art means your little one will develop critical thinking skills, a better capability to concentrate and focus, and an open mind, which will lead to creativity and innovation.
Other Benefits of Art Activities Offered for Babies
Stimulates baby's smells, textures, and colors
Exercise fine motor muscles
Encourages cognitive development
Relaxing and enjoyable
This encourages family bonding when performed with parents or siblings.
Conclusion
We are hoping that you will feel motivated and inspired to discover this remarkable array of art activities for infants 0-12 years old. It's important and beneficial to give young children opportunities to experiment and create art with colors and textures. We love that all of the art activities for infants 0-12 months are process art methods, which concentrate on the experience of carrying out instead of the result of a finished piece.
Once they are ready for the next step, here are games to teach colors to preschoolers.