Telling time is one of those cornerstone lessons we are responsible for teaching our children. What better way to do that than with a children's teaching clock.
A children's teaching clock allows us as parents or educators to go over the details of telling time. From knowing which hand is the minute hand to telling the time from just a glance, these clocks do the job.
There are many clocks out there designed to teach children to tell the time, these are the best ones for the job.
1. BEST LEARNING Learning Clock
This first learning clock by Best Learning is great for teaching any child how to tell time. The clock is specifically designed for teaching purposes.
What separates this learning clock from the rest is that this clock speaks to your child. They can set a specific time and the clock reads that time out loud to them.
If you feel like your child is ready to put what they've learned to the test, this clock also offers a quiz mode. Quiz mode gives instructions to your child to set the clock to a certain time. Then it checks if the time the child placed it correct.
Who said learning has to be boring? With this learning clock by Best Learning, your child will learn to tell time in no time at all.
2. The Learning Journey Telly The Teaching Time Clock
This next clock is actually the most fun on this list! Other than the fun look, this clock is perfect for teaching younger children to tell time. Similar to the previous learning clock, this clock teaches children to tell time using voice help.
This clock takes it one step further by having a digital component allowing children to visually see the time they are setting the clock to. This allows them to build a relationship between visually seeing the hands on the clock and conceptualizing it as a digital time.
There are some great activities that fit well with this clock. For example, tell your child to set the clock for dinner time. Every time you plan an activity in the future with your child, have them set the time for that particular activity.
3. Pidoko Kids All About Today Calendar Board – My First Clock
This comprehensive clock is a great all in one for children's learning. If you feel like your child is ready for some more advanced learning then this may be the clock for you.
This learning clock features not just time learning but also combines numbers, seasons, and days of the weeks.
Teach everything you need to teach to your child with one simple device at a great cost.
The only downside to this product is that it is designed for children that are a bit older. If your child is younger or has trouble focusing this teaching clock can be a bit overwhelming for them.
4. Learning Resources Big Time Student Clock
This next clock is a great simple clock to help your child master time. This clock by Learning Resources is perfect for helping kids learn the full hour, 30-minute, and quarter-hour times.
My favorite detail about this watch is first of all how simple it is but more importantly how durable it is. This clock has fallen off our dining room table way more times than I'm willing to admit.
If you are looking for something simple that is going to make it easy for your child to learn to tell time this is the clock for you.
The only downside to this product is that the learning experience stops at time. Unlike the other clocks on this list that help with days of the week or seasons, this clock focuses exclusively on time.
Buyer's Guide
Here are some things to consider when choosing a clock to teach your child how to tell time.
Your Goals
What are your goals with the learning clock? Are you looking to just purchase something that is going to teach your children how to tell time or are you looking for something a bit more in-depth like days of the week or seasons?
Depending on your goals you'll want to purchase a clock that teaches that. If your child is just now learning to tell time, it is best to get a clock that focuses on just that. Sometimes children can get overwhelmed by a learning clock that has too much going on.
Child's Age
The next factor to consider when buying a children's teaching clock is how old your child is. As mentioned before, younger children can get overwhelmed by complex watches that teach time, seasons, numbers, and days of the week.
In preschool, I'd recommend sticking to one of the more simple learning clocks. As your children move through elementary school, it may be time to upgrade to a more advanced clock so that they can continue to learn.
Price
Price is obviously an important factor when choosing any learning supplies for your children. A learning clock should not cost more than $35. You can find many learning clocks in the $10-$20 range but if you are looking for a digital clock that your child can interact with, you are probably going to be spending closer to $30.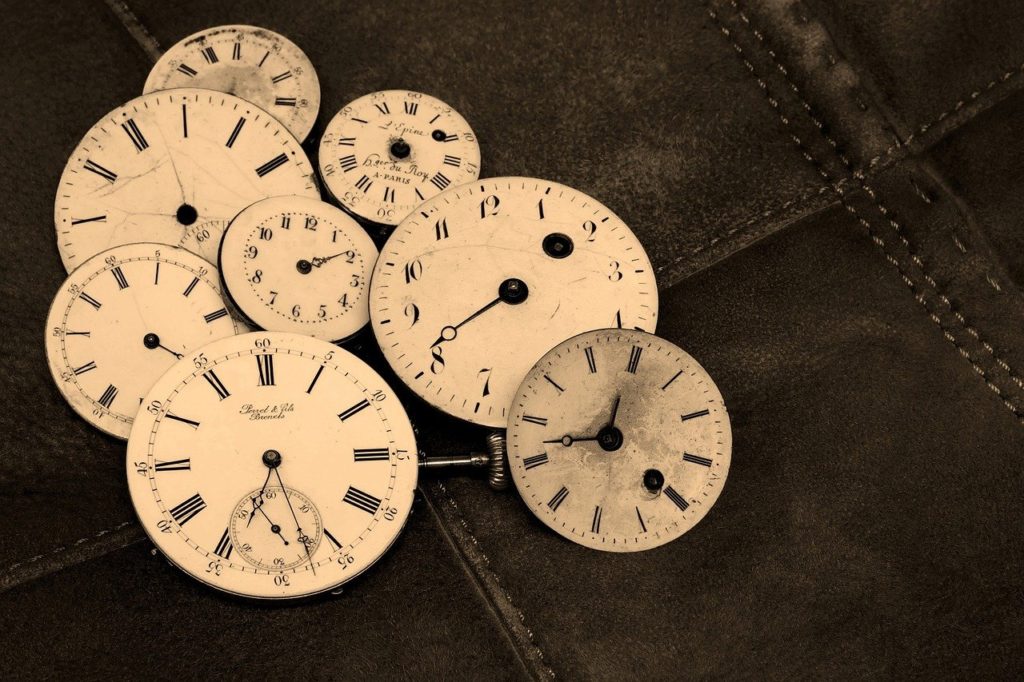 Final Thoughts
Although telling time might seem easy to us, it can be overwhelming to many young children. A learning clock gives children a physical and visual representation of time which will help them on their learning journey.
There are tools out there that aid us in teaching our children the basics they need to know as they progress in their academic career and a children's learning clock is one of them.